Brad Dailey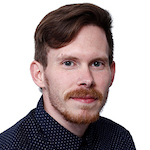 Ball State University, Assistant Director of Digital Sports Production and Instructor of Telecommunications
Brad Dailey is the assistant director of digital sports production and instructor of telecommunications at Ball State.
Dailey is an award-winning storyteller, specializing in video production including cinematography, lighting, non-linear editing, color correction, and color grading. His other skills include digital design, transmedia, animation, and screenwriting.
Dailey started freelancing in the industry when he was an undergraduate at Ball State. He has worked as a camera operator, cinematographer, photographer, video editor, animator, broadcast director, technical director, replay operator, and production assistant, among other roles. Most of his experience is in the sports industry, although he has also worked on independent short films, music videos, and commercials, amongst other things. Dailey's work has taken him all over the country.
As assistant director of digital sports production, Dailey helps operate Ball State Sports Link, a nationally recognized immersive-learning program that grants students real-world experience, readying them for a myriad of career paths in the sports and media industries.
He is a graduate of Ball State, with Bachelor of Arts degrees in video production and creative writing. He also has a Master of Arts degree in digital storytelling.