Chris Taylor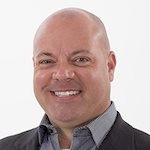 Ball State University, Senior Director, Digital Sports Production
A creative storyteller with over 20 years experience, Chris Taylor is in his ninth year in 2018-19 as a lecturer of telecommunications at Ball State University and leads the department's digital sports production and immersion efforts.
In June 2017, Taylor was honored with the Sports Video Group/College Sports Media Summit Pioneer Award. The national award recognizes innovators in video production and technology at the university level who have advanced the industry at large.
Also in 2017, the program overall was ranked No. 3 in the nation for top sports broadcasting schools by the Sportscasters Talent Agency of America.
In 2015, Taylor was promoted from instructor to lecturer at Ball State, while also moving to senior director of digital sports production. The digital sports academic concentration is the first of its kind by any college or university in the nation. The digital sports production offers skills and applications courses using digital technology to create sports content for distribution across multiple platforms, including interactive and mobile media, tablets, podcasts, and the Internet, plus television and radio.
Digital sports production prepares students for careers in a developing and changing sports media arena. In addition to his sports production duties, Taylor also teaches sportswriting and reporting for Ball State's journalism department, as well as video production courses for the TCOM department.
Since 2009, Taylor has directed Ball State Sports Link, the nation's first fully immersive digital sports production program. Working closely with ESPN and Ball State Athletics, the program produces over 100 hours of live sporting events to ESPN platforms yearly, with students in all crew positions. Since 2009, Taylor's students in Ball State Sports Link have garnered over 100 state or national awards for sports production, including 45 Emmy nominations (20 wins) and 33 Sports Video Group/Best of College Sports Media nominations (nine wins). His students have won 33 Indiana Association of School Broadcasters first-place awards, 16 Indiana Society of Professional Journalists first-place awards, 13 Broadcast Education Association "Best in the Nation" honors, and two "BEA Best of Festival" awards from all entry genres.
A former college sports information and marketing director, Taylor has served on numerous state, local, and national organizing committees, including for NCAA Final Four and other NCAA Championship events. In addition, he has guided Ball State's involvement as social and digital media producers for NCAA March Madness since 2011, working with the NCAA and Turner Sports.
In 2017, Taylor and his students added 13 additional dedicated NCAA Championship platforms, managing the brand strategy and digital content creation. In 2014, Taylor also guided the social and digital real-time operations – utilizing students – for the 96th PGA Championship and the 2014 Ryder Cup.
He also helped lead a team of Ball State students to the London 2012 Olympic Games, producing multimedia stories for national media outlets.
Taylor is also active in his campus and local communities, including serving as the executive producer and mentor of 7th and 8th grade students as part of Muncie's Inner City Educational Basketball League in 2015 and 2016. It is a league based on academic achievement and playing time as part of the 21st Century Scholars initiative.
Taylor is a graduate of Ball State University with his bachelor's degree in telecommunications (production option) and a master's degree in sports administration.