Imry Halevi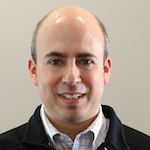 Harvard University, Assistant Director of Athletics, Multimedia and Production
Imry Halevi joined Harvard University Athletics in 2012 as director of multimedia and production. He was promoted to his current role as assistant director of athletics in 2018.
Halevi manages Harvard Athletics' multimedia team, and leads all department-wide multimedia and production initiatives. He has completely reorganized video board productions and live game broadcasting for the Crimson, bringing these efforts in house, and expanding their scope and reach. With the addition of newly streamed sports, the completion of two central control rooms, and the building of a NCAA-leading fully automated streaming infrastructure for tennis and squash meets, Halevi was able to more than double the online viewership and triple the subscription revenue for Harvard broadcasts within his first year.
Over the last few years, Halevi established partnerships between Harvard Athletics and ESPN, NESN (New England Sports Network), and other national and regional networks to broadcast the Crimson's in-house productions of football, softball, water polo, ice hockey, basketball, lacrosse, baseball, and wrestling events – the first such relationship in the Ivy League. Staffing the productions almost exclusively with students from local area colleges, Halevi and the multimedia team have been able to provide real-world hands-on experience for dozens of students looking to develop their production and broadcasting skills.
While producing and streaming 32 of Harvard's 42 varsity teams, Halevi has worked with his counterparts from the Ivy League office and the other seven league schools to launch and develop the league's integrated platform for live and on-demand content – the Ivy League Network. In 2018, Halevi helped the Ivy League launch their new partnership with ESPN and establish the "Ivy League on ESPN" network.
Halevi is a member of the College Sports Summit Advisory Board and chaired the Sports Video Group's 2016 College Sports Summit. Additionally, Halevi chairs the Ivy League Digital Strategy Committee, the Ivy League Multimedia Directors Group, and co-chairs the Harvard Athletics Multimedia and Technology Advisory Committee.