Jen Lada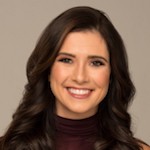 ESPN, Reporter and Host
Jen Lada is a versatile commentator for ESPN, appearing regularly as a features reporter on College GameDay, SportsCenter's award-winning storytelling brand SC Featured, and many more marquee events. The Marquette graduate also serves as a host across multiple shows, including College Football Live.
Lada has previous success at the College Sports Media Awards, winning trophies in 2017 for Outstanding Special Feature in the National Networks division ("Heart of a Tiger") for ESPN and in the Regional/Local Networks and Production Companies division ("Texas Fight") for Longhorn Network.
Prior to ESPN, she was an anchor and reporter for two and a half years in the Chicago area for Comcast SportsNet. At CSN Chicago, Lada was the reporter on the Bears and White Sox pro sports beats. She also anchored SportsNet Central and was the host of High School Lights, White Sox pre- and postgame shows, and the trivia show Beer Money.