Mike Szlamowicz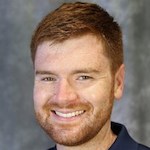 University of Virginia, Director of Video Services, Live Events and ACC Network
Mike Szlamowicz's title and responsibilities were changed to Virginia's director of video services, live events and ACC Network in the fall of 2018. He previously served the department as the senior producer/operations manager in the Athletics Video Services unit since 2011. Previously he was video coordinator in the unit starting in 2009.
He is the `Hoo Vision producer for all football and men's basketball games and responsible for all video and graphics production pertaining to those sports. Also, he oversees the game-day video board production at Scott Stadium and John Paul Jones Arena. In that role, he supervises over twenty full time staff and freelancers to provide fans with live coverage of games, replays, pre-produced features, statistics, and other promotional information in order to enhance the game-day atmosphere.
Szlamowicz also shoots and edits highlights and features for Cavalier Sports Weekly and VirginiaSportsTV.com, traveling with the football, men's basketball, and men's and women's lacrosse teams. He helped oversee a redesign of VirginiaSportsTV.com, as well as a revamp of the LED system in the John Paul Jones Arena.
As video coordinator, Szlamowicz was a basketball producer, the men's and women's lacrosse producer, and the designer and coordinator for all LED signage at John Paul Jones Arena and Scott Stadium.
A native of Lansing, Michigan, Szlamowicz is a 2008 graduate of the University of Virginia with a bachelor's degree in media studies and computer science. He currently resides in Charlottesville.