Scott Hecht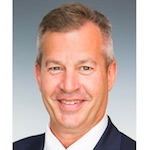 Syracuse Athletics, Senior Producer; SVG College Summit, Chairman
Scott Hecht boasts more than 30 years of experience in the broadcast production field. He joined the Syracuse athletics production department as the senior producer in July 2017. In this role, he is responsible for leading the athletics production unit, including all ACC Network productions.
Most recently, Hecht was the manager of university productions for the SEC/ESPN Network in Charlotte, North Carolina. His duties included leading, teaching, and mentoring the development of concepts and editorial themes for all ESPN remote productions at SEC schools.
Prior to his role with the SEC/ESPN Network, Hecht was a coordinating director at ESPN for numerous shows including SportsCenter, Baseball Tonight, Sports Reporters, Mike and Mike, and The Herd from 2008 through 2010. He joined ESPN in 2006 as the coordinating producer for studio production and worked on the SportsCenter, ESPN News, and Baseball Tonight shows.
In 2006, Hecht was the senior producer at HRTV Network for nine months after a seven-year stint as the producer and director for the San Diego Chargers and KFMB TV. He produced the Chargers preseason games, as well as regular season coaches shows from 1999 to 2006.
Hecht has a wide variety of broadcast experience, including as a freelance director of the Colorado Rockies Baseball team on Fox Sports Rocky Mountain (2004-06), producer/director of San Diego Chargers Football (1999-2014), lead director of Trackside Live on TVG Network (1999-2006), and as producer of San Diego Padres Baseball (1997-99) and San Diego State University football and baseball (1997-99).
Hecht worked for Cox Communications producing Phoenix Suns basketball, Phoenix Firebirds baseball, Phoenix Roadrunners hockey, and Arizona State University baseball and basketball from 1988 through 1997. He was chosen to produce the world feed for the 1994 World Basketball Championship by the NBA.