Tom White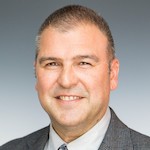 Syracuse University, Broadcast Engineer
Tom White joined the Syracuse Athletics Production Department as a broadcast engineer in June 2017. At Syracuse University, he oversees the technical operations and transmission for all remote productions. He works closely with the S.I. Newhouse School of Public Communications to ensure proper control room integration with remote production equipment for ACC Network and Syracuse Athletics productions.
Previously, White held the position of senior manager of remote operations and engineering at Spectrum Sports, formerly Time Warner Cable SportsChannel. In that role, he was responsible for the technical operations of all remote production facilities in New York State. In his 26 years at Spectrum/Time Warner Cable, White served in various roles, including director of operations (2011-14), production and engineering manager (2004-11), engineering coordinator (1998-04), and studio/remote engineer (1992-98). In 1991, White began his career as a master control operator at Newchannels.
White and his family reside in Manlius, NY.